GreatStone Castle Resorts
Bed and Breakfast, Spa and Lodge
Sidney, Ohio
GreatStone Castle sits on two acres of lawn and gardens. A drive, passing 100 year old oaks, leads to this magnificent mansion which has overlooked downtown Sidney for 125 years. The mansion is listed on the National Register of Historic Places and is now home to the GreatStone Castle Bed and Breakfast and Spa. It is constructed of 18 inch thick Bedford, Indiana, limestone and features a wrap around porch supported by intricate stone columns. Three turrets give this massive structure its castle-like appearance. The detailed interior design features rare carved and machined hardwoods from many countries, transported by ship and rail to their destination atop a hill in Sidney, Ohio. The resulting rooms reflect the elegance and opulence of the period in which the house was built.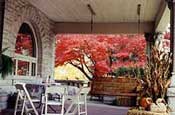 The first floor of the mansion offers common spaces for our visitors' relaxation, including the parlor, ballroom, and conservatory. Outside there is seating in the garden and on the porch. Many guests take in the view from the front porch swing.
The second floor hosts the bed and breakfast Suites and rooms. Each room has a unique decor, and the Suites offer fireplaces.
The period perfect Spa at GreatStone is housed in the lower level. It is staffed with licensed and highly skilled technicians offering a wide ranged of services and is open to overnight guests and the general public.
Canal Lake Lodge, located 10 minutes from GreatStone Castle offers the perfect location for weddings, meetings, special events, and private getaways or family stays. It is a log and stone structure atop a wooded hill, overlooking a private six acre lake.